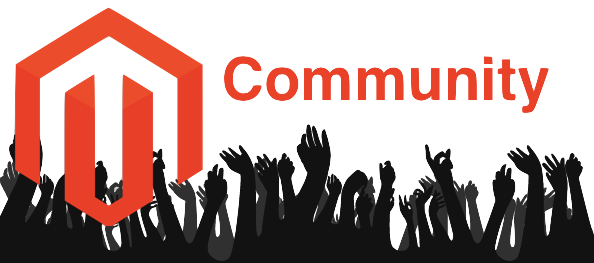 Voy a ser la primera en admitir que sólo se muy muy poquito de Español, en parte por Plaza Sésamo, algunos compañeros de clase, compañeros de trabajos previos, un viaje a Guatemala y dos viajes a España.
¡Así que gracias a Damián por traducir esto por mi!. Para aquellos que lean, si desean enseñarme más del Español, me encantará aprender. En serio.
Cosas sobre la Comunidad de Magento.
¡La Comunidad de Magento es Mi Lugar Favorito del Planeta!
Para aquellos que no me conocen, ingresé en el mundo Magento como miembro de la comunidad en el 2007 cuando el producto todavía estaba en beta. En ese momento, tenía bastante experiencia en HTML, CSS, ASP.NET y Access; pero nunca había tocado PHP o MySQL.
Luego de convencer a mi jefe de que esperar por la versión estable de Magento 1.0 era mejor que modificar juntos la versión actual de osCommerce, me metí de cabeza en los foros de Magento para aprender todo lo que pudiera.
Casi todos los veteranos de la época eran veteranos PHP en lugar de veteranos Magento, pero la mayoría estaban dispuestos a ayudarme a aprender.
Lentamente abandoné mi estado de Newbie y fui capaz de ayudar a aquellos que necesitaban aprender a borrar la cache para asegurarse que sus categorías se anidaran debajo de la Categoría por Defecto, mientras yo continuaba recogiendo ideas de otros miembros de la comunidad hasta que, finalmente, creé mi primera extensión.
Esa es Mi Historia. ¿Cuál es la tuya?
Ahora que soy la Community Manager en Magento, a menudo me preguntan cómo puede alguien involucrarse más en la comunidad. Creo que si estás leyendo esto ya estás involucrado, aunque siempre insisto con "¡Comienza a hablar!". Únete a la conversación. Es así de simple.
Probablemente los tres lugares más importantes para interactuar con la Comunidad de Magento sean:
Cada semana, publico un resumen llamado #MagentoMonday Community Digest en nuestros foros, con publicaciones y noticias de eventos de toda la comunidad. ¡Puede que lo encuentres útil!
Si aún deseas más recursos, Alessando Ronchi ha compilado una buena lista y continua actualizándola de la misma forma en que la comunidad continúa innovando y creciendo.
También, recomiendo enormemente que busques los eventos Magento más cercanos a ti. Tenemos una lista en nuestro sitio y además hay pequeñas reuniones y grupos de usuarios en meetup.com.
Si no estás seguro de dónde comenzar, no dudes en avisarme. Para eso estoy aquí, para ayudarte a conectarte con la gente y los recursos que necesites.
¡Podés dejar tu Marca!
Algunos de ustedes ya saben dónde interactuar con la comunidad, pero quieres estar involucrado en el desarrollo del producto también. Después de todo, ¡esto es Open Source!.
En estos lugares es donde puedes sumar:
Siempre habrá nuevas oportunidades para involucrarse. Asegúrate de seguir a Ben Marks y a mi, y no dejes de suscribirte al Centro de Seguridad para estar actualizado.
Sobre todo, quiero agradecerte a ti. Si, a ti. Como dije antes, la Comunidad de Magento es mi lugar favorito en el planeta y espero seguir colaborando.
---
I'll be the first to admit that I only know the tiniest bit of Spanish, mostly due to Sesame Street, a handful of classmates, previous coworkers, a trip to Guatemala, and two trips to Spain. So thank you to Damián for translating this for me! To those reading, if you'd like to teach me more Spanish, I'd love to learn it. Seriously.
On to Magento Community things.
The Magento Community is My Favorite Place on the Planet!
For those who don't know me, I entered the Magento world as a community member back in 2007 when the product was still in beta. At the time, I had fairly extensive HTML, CSS, ASP.NET and Access experience, but had never touched PHP or MySQL.
After convincing my boss that waiting on Magento 1.0 Stable was better than hacking together the current version of osCommerce, I dove head first into the Magento forums to learn everything I possibly could. Most of the veterans at the time were PHP veterans, rather than Magento veterans, but the majority were willing to help me learn.
As I slowly graduated out of n00b status, I was able to help the new round of those needing to learn to clear the cache and ensure their categories were nestled under Default Category while I continued to pick the brains of others in the community to eventually create my first extension.
That's My Story. What's Yours?
Now that I'm the Community Manager at Magento, I'm often asked how someone can get more involved in the community. My guess is that if you're reading this you are already involved, but I always lead with "Just start talking!" Join the conversation. It's really that easy.
Probably the top three places to interact with the Magento Community are:
Every week, I publish a roundup called the #MagentoMonday Community Digest on our forums with blog posts and event news from around the community. You might find it helpful!
If you want even more resources, Alessandro Ronchi has compiled a great list and continues to update it as the community continues to innovate and grow.
Also, I highly, highly recommend finding the closest Magento event to you. We have a list on our site and there are also several smaller gatherings and user groups listed on meetup.com.
If you're ever unsure of where to start, please don't hesitate to reach out to me. That's why I'm here, to help connect you to the people and resources you need!
You Can Leave Your Mark!
Some of you know where to interact with the community, but you want to be involved in the product development as well. This is, after all, open source! Here's how you can add your thoughts:
There will always be new opportunities to get involved. Be sure to follow Ben Marks and myself as well as subscribe to our Security Center to stay in the know!
Most of all, I just want to thank you. Yes you. As I mentioned above, the Magento Community is my favorite place on the planet and I look forward to continued collaboration.